Radharani's Manjaris: Tattva & Lilas 019 "Rasollasa and Bhavollasa"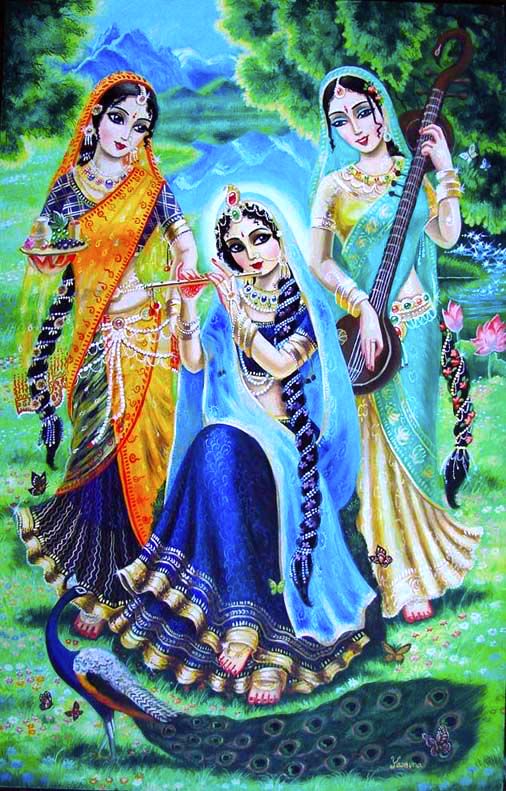 Mahanidhi Madan Gopal Das
This series of posts will present facts (tattva) regarding the identity, moods (gopi-bhava), intimacy and sevas of Srimati Radharani's beautiful and talented handmaidens known as manjaris, kinkaris, or dasis.
Also we will present many astonishing and wonderful lilas to highlight the manjaris most personal and confidential sevas to Srimati Radhika and Her dearest Priyatama Shyamasundara.
The information here is based on the commentaries of Advaitavamsa Acharya 108 Sri Ananda Gopala Goswami and 108 Sri Ananta Dasa Babaji Maharaja taken from "Vilapa Kusumanjali" and "Radha Rasa Sudhanidhi" translated by Sri Advaita Dasji.
Manjari Lila: Rasollasa and Bhavollasa 
When Swamini takes Her meal, Tulasi-manjari very carefully offers Radha the most exquisite incense and fans Radha according to the time of the year. Radha doesn't know whether She tastes the nectar of Krishna's lips or whether She eats the remnants of Krishna's food!
After Sri Radhika and Her sakhis have relished the nectar of Krishna's lips, Tulasi serves them rose and camphor scented drinking water. Tulasi's pure love gives the water an extra flavour. While Radharani relaxes the manjaris joke with Radha as they did when Radha first fell in love with Krishna.
Mallika-manjari says, "Sakhi Radhe! Who has stolen Your heart? Tell us the truth! You are not so eager anymore as before to read books or to teach Your parrots eloquent verses! We never hear You gossiping or joking with Your friends anymore! How beautifully You were playing Your vina! But where has this all gone now?"
Manjari Tattva: Eagerness is Life
The manjaris are love personified. What to speak of the kinkaris, the whole of Vraja-dhama is the kingdom of love. When Radha meets Krishna She relishes rasollasa and when Sri Radha is separated from Shyam She tastes bhavollasa.
Radha feels a deeper bliss when She is separated from Krishna then when Radha is with Krishna. As Swamini meditates like that it is as if Shyam appears directly before Radha. The sweetness of clearly seeing Krishna enlivens the eyes. But still even the endlessly sweet Shyamsundara is fully subdued when He sees the natural sweetness of Radhika's glances.
Eagerness to experience and taste all these things is the life of raga bhajana. The acharyas are extraordinary knowers of rasa. Their association can be attained by studying their books.
By hearing and discussing them and becoming absorbed in the mood of the acharyas, devotees can also become absorbed in these moods. Rasa can be relished when we accept the mood of the great saints.
Radharani's manjaris ki jai! Jai Jai Sri Radhe!
https://www.mahanidhiswami.com/wp-content/uploads/2020/09/6edf02add76427dd72f5b4de5ad446b2.jpg
791
506
dasi
https://www.mahanidhiswami.com/wp-content/uploads/2017/08/mahanidhi-swami-radhakund.png
dasi
2020-09-21 17:10:19
2020-09-21 17:10:19
Radharani's Manjaris: Tattva & Lilas 019 "Rasollasa and Bhavollasa"