How To Attain Your Spiritual Body?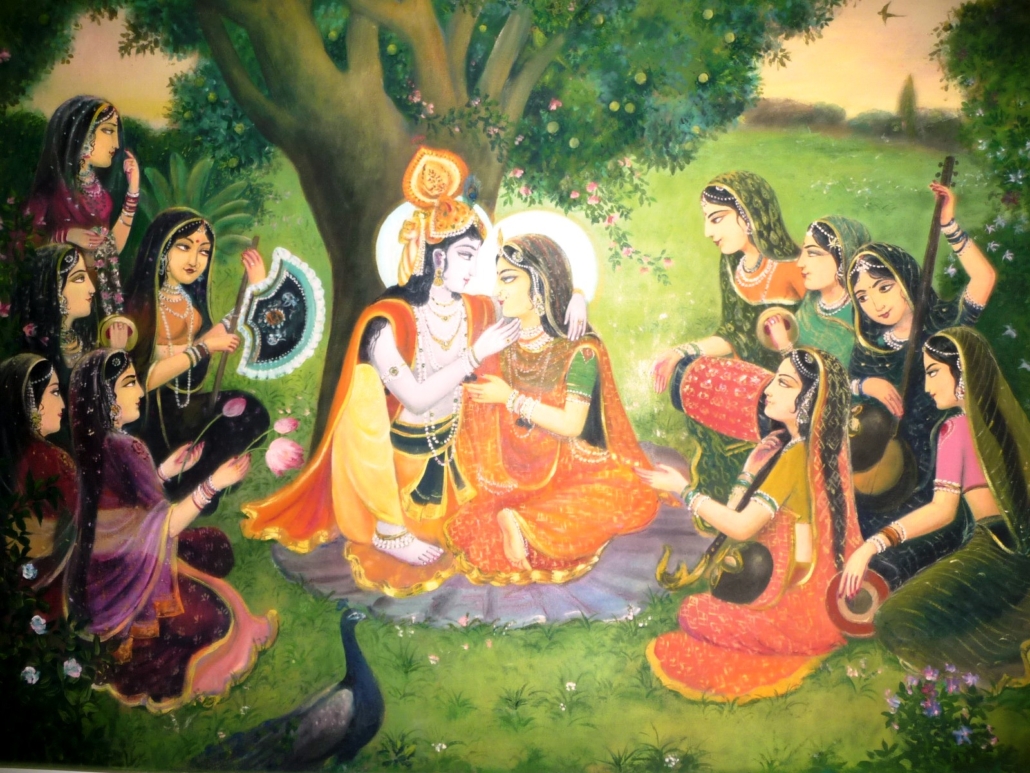 Mahanidhi Madan Gopal Das
The eternal constitutional nature of every single jiva is to be an eternal servant of Bhagavan Sri Krishna, jivera svarupa haya krishnera nitya dasa (Caitanya-caritamrta 2.22.108). A transcendental body, siddha deha, fit for serving Bhagavan Sri Visnu/Krishna is being kept in the spiritual sky for each jiva.
When by the mercy of Sri Krishna, Sri Guru and pure devotion one becomes qualified for Krishna's direct seva, Bhagavan Sri Krishna will give one of those spiritual bodies to the sadhaka. The spiritual body, which is called the siddha-svarupa i.e. siddha deha, is given to a qualified sadhaka to practice raganuga bhakti in order to attain Vraja prema and the eternal seva of Radha Govinda Yugala in Goloka Dhama.
While living in the physical body, a raganuga sadhaka concentrates on nama japa and Radha-Krishna asta-kaliya lila smaran. Externally one follows all the rules of vaidhi-bhakti. But internally, in one's private mental/heart world, the raga bhakta visualizes his/her siddha deha, and meditates upon serving Radha Govinda Yugala with the feelings and bhava of a gopi/manjari.
In the desired spiritual form, one tries to reach the ideal of mentally serving Radha Govinda Yugala throughout the day and night, asta-kaliya lila smarana bhajana. By continual meditation one gradually enters and experiences Krishna's Vraja lila as it floods one's inner being with its eternal presence, tasty bliss and fulfillment.
The internally visualized siddha deha is real. It's a mental reflection of the transcendental body [siddha-svarupa/deha], which Sri Krishna will reveal and one will directly see and experience at the stage of bhava, prema, or at death as in the case of Narada Muni (SB 1.6.28), Dhruva Maharaja, Ajamila, Gajendra and Putana raksasi.
In Srimad Bhagavatam (3.9.11), Sri Brahma says:
yad yad dhiya ta urugaya, vibhava yanti,
tat tad vapuh pranayase, sad anugrahaya
"Bhagavan Sri Krishna is so merciful to His devotees that He gives them the particular spiritual bodies [siddha dehas] upon which they are meditating upon along with the mood of love [bhava; gopi-bhava] that they are cultivating during sadhana."
In Sri Gita (4.11), Bhagavan Sri Krishna Himself promises reciprocation: ye yatha mam prapadyante, tams tathaiva bhajam yaham, "I respond to persons according to the manner and mood in which they surrender to Me." In Priti Sandarbha (50), Sri Jiva Goswami confirms this point by quoting Chandogya Upanisad (3.14.1): yatha kratur asmin loke puruso bhavati tathetah pretya bhavati, "According to the way one is determined to worship the Bhagavan Sri Visnu/Krishna in this life, a person attains an appropriate reward after death."
Your eternal, individual spiritual body can be attained either by assignment as a precious gift from Sri Guru, or by revelation from Bhagavan Sri Krishna via His omnipotent pure Divine Names.
One teacher described the manifestation of the siddha deha that the sadhaka continually meditates upon thus: "One's eternally existing siddha deha in Vaikuntha/Vrndavana descends into the mind of the meditative raganuga bhakta in a "shadow" form. That siddha deha is eternally existing spiritual realm, but it clearly and fully manifests in the mind at the particular time when a sadhaka attains bhava or prema."
Bhakta O.B.L Kapoor explains how the raganuga sadhaka attains the spiritual body, siddha deha thus: "The siddha deha or transcendental body of the sadhaka first appears in the mind of the guru, who then reveals its details i.e. name, color, dress, age, personal seva to Radha-Govinda, and so on to the disciple.
"The disciple then forms a mental picture of this siddha deha, identifies fully with it as being one's eternal spiritual body, and in that form always serves Radha-Govinda in his meditation, lila smarana. This type of meditation will bring success because it's the nature of the mind is to assume the shape of any object upon which it always dwells. And the Gita (8.6) says; sada tad bhava bhavita, "as you think, so you become." (adapted "Raganuga Bhakti")
The Srimad Bhagavatam (11.9.23) confirms the powerful effect of form meditation as in contemplating one's eternal spiritual body or siddha deha. The Bhagavata describes how a small insect, trapped alive inside a hole by a larger insect, out of fear continually meditated on the form of its predator. Due to this absorption, after death that small insect got the same type of body as the bigger one which it was constantly meditating upon.
In Uddhava-gita (11.15.26), Sri Krishna says, "A sadhaka who has faith in Me (mat parah puman) will obtain whatever he/she desires by devotion to Me, and by fixing the mind on Me because My wish is always fulfilled (satya-sankalpa)."
Pandita Sri Ananta Dasa Babaji describes the process for attaining the spiritual body, siddha deha thus: "While meditating on Krishna's pastimes, the sadhaka will especially contemplate one's personal eternal seva to Radha-Krishna as revealed by Sri Guru, and eagerly perform that seva within one's mind. In addition, one will serve in ALLEGIANCE to the nitya-siddha sakhis and manjaris like Visakha-sakhi and Tulasi-manjari (aka Dasa Gosvami).
"ALLEGIANCE means aligning, identifying and mixing one's mind and heart, thoughts and feelings, with those of one's role models i.e. Visakha sakhi or Tulasi manjari. By this method the sadhaka's bhava i.e. gopi/manjari bhava will develop, deepen and eventually become one with theirs.
"The raganuga sadhaka will surely attain success in his manjari svarupa bhajan because he/she has taken full shelter of Bhagavan Sri Krishna, the Absolute Truth personified. Furthermore, the sadhaka gets transcendental power, support and compassionate blessings from bhakti, which is composed of Krishna's own internal potency, hladini-sakti.
"In this world, the sadhaka will attain siddhi or success in bhajan by receiving the mercy of Sri Guru gained by sincere service. Then in the spiritual realm, by the mercy of one's guru-rupa manjari, the sadhana siddha will obtain his/her cherished direct seva to Radha-Govinda Yugala in one's manjari svarupa in the bowers of Vrajadhama. In raganuga bhajan pursuing manjari bhava, this is the way to attain one's eternal spiritual body, siddha deha." (adapted "Prema Bhakti Candrika" tikas 55-56)
Obtaining siddha deha ki jai! Sri Guru krpa ki jai! Jai Jai Sri Radhe!
https://www.mahanidhiswami.com/wp-content/uploads/2019/01/Krsna-and-Gopis.jpg
1200
1600
dasi
https://www.mahanidhiswami.com/wp-content/uploads/2017/08/mahanidhi-swami-radhakund.png
dasi
2019-01-17 11:51:40
2019-01-17 11:51:40
How To Attain Your Spiritual Body?