Radharani's Manjaris: Tattva & Lilas 005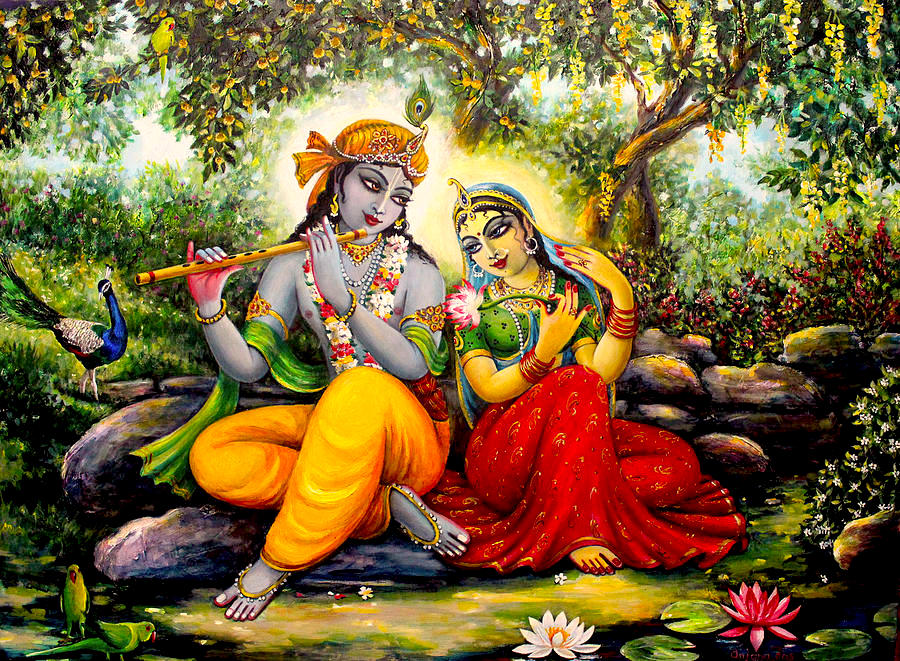 Mahanidhi Madan Gopal Das
This series of posts will present facts (tattva) regarding the identity, moods (gopi-bhava), intimacy and sevas of Srimati Radharani's beautiful and talented handmaidens known as manjaris, kinkaris, or dasis.
Also we will present many astonishing and wonderful lilas to highlight the manjaris most personal and confidential sevas to Srimati Radhika and Her dearest Priyatama Shyamasundara.
The information here is based on the commentaries of Advaitavamsa Acharya 108 Sri Ananda Gopala Goswami and 108 Sri Ananta Dasa Babaji Maharaja taken from "Vilapa Kusumanjali" and "Radha Rasa Sudhanidhi" translated by Sri Advaita Dasji.
Manjari Tattva: Introduction Necessary
At every stage of bhakti bhajan from the beginning to perfection, a disciple is dependent on Sri Guru's mercy, guidance and love. Radha-Krishna's lila-bhumi of Vrndavana is an eternal realm filled with varieties of loving relationships. Every activity is personal, intimate and performed simply to please Sri Hari.
In his Prarthana Giti, Sri Narottama Dasa Thakura describes how a sadhaka of raganuga bhajan who attains perfection as Radharani's maidservant, sadhana siddha kinkari, is first introduced to Radha-Krishna by Sri Rupa Manjari:
"When will my Guru-sakhi submit me to Sri Rupa Manjari's lotus feet? When will that blessed moment come when Sri Rupa Manjari will look at me and order me: 'O Nava-dasi! Come here! Quickly get the paraphernalia of your service!'
"My heart will fill with joy when she orders me like this, and I will do my service with a pure heart. I will fill a golden pitcher with scented water and quickly come before Radha Govinda.
"I will shyly stand behind Sri Rupa as Radha and Krishna repeatedly glance at me affectionately. Smilingly, They will say, 'O Rupa! Where did you get this new maidservant?'
Hearing Their inquiry, Sri Rupa Manjari will reply, 'Krpa-rati manjari has given me this maidservant to bring to You! Knowing her to be very humble I kept her here to serve You.'
"After telling this to Radha-Madhava, Sri Rupa Manjari will engage Nava-dasi in Radha-Madhava's eternal seva."
Manjari Tattva: Service not Friendship
Swamini Radha stands before Tulasi-manjari (Sri Raghunatha Dasa Goswami) and wants to offer her a friendly relationship like Radha's other sakhis such as Lalita-sakhi and Visakha-sakhi.
Radhika says, "O Tulasi! Please accept My friendship! You can become equal to Lalita and the others and serve both Me and Shyamsundara!"
Tulasi replies, "O Devi! I don't want anything else but the excellent service of Your lotus feet! I offer my obeisances to Your friendship! Let it stay on my head, but I only want to serve You!"
Why does Sri Raghunatha Dasa Goswami say the manjaris' seva is vara-dasyam which means excellent? It is excellent because it most intimate and devoid of any hesitation, awe and reverence. A manjari is Radharani's sakhi and dasi at the same time.
Nothing is done for personal happiness, everything is done for the pleasure of Navina Yugala! Although the manjaris are in the category of sakhis, they are dasis or kinkaris because of their complete dedication to Radharani's service. The sakhis have a superior position in the social hierarchy and pastimes with Krishna.
But the fortune of service intimacy is greater for the manjaris! They know Sri Radhika's innermost desires, and therefore they can perform their service without hesitation like no one else in the world.     
Radha's dasis are called manjaris, which means flower bud, because the manjaris enhance the beauty of the flowers known as the gopis. But the flower buds are never separately enjoyable to the blackbee, Madhusudana. The special privileged position of being a manjari of Srimati Radhika is the unique mercy of Sri Caitanya Mahaprabhu. Manjari bhava upasana ki jai!
Manjari Lila: Fixing the Sanket Kunja
A sanket kunja means a prearranged meeting place for Rasika Yugal Radha Shyam. Once, when Krishna takes His supper in Nandishvara, a kinkari fans Him. Without being seen by others Shyam keeps His left hand on that kinkari's foot, as a means of asking her: "Will I meet My Dearest Radha or not?"
That maidservant then places one toe on Shyam's hand to indicate that a meeting will be possible. Then the kinkari touches a particular finger of Krishna's to indicate the specific sanket kunja where Shyam can meet His beloved Radhika. This code was previously agreed upon. The assembly of elders is absorbed in speaking with each other and thus does not notice this exchange.
This is vara dasya, the most excellent service of Radha's manjaris!
Radharani's Manjaris ki jai! Jai Jai Sri Radhe!
https://www.mahanidhiswami.com/wp-content/uploads/2020/06/radha-krishna-anjana-das.jpg
661
900
dasi
https://www.mahanidhiswami.com/wp-content/uploads/2017/08/mahanidhi-swami-radhakund.png
dasi
2020-06-13 07:30:22
2020-06-13 07:30:22
Radharani's Manjaris: Tattva & Lilas 005