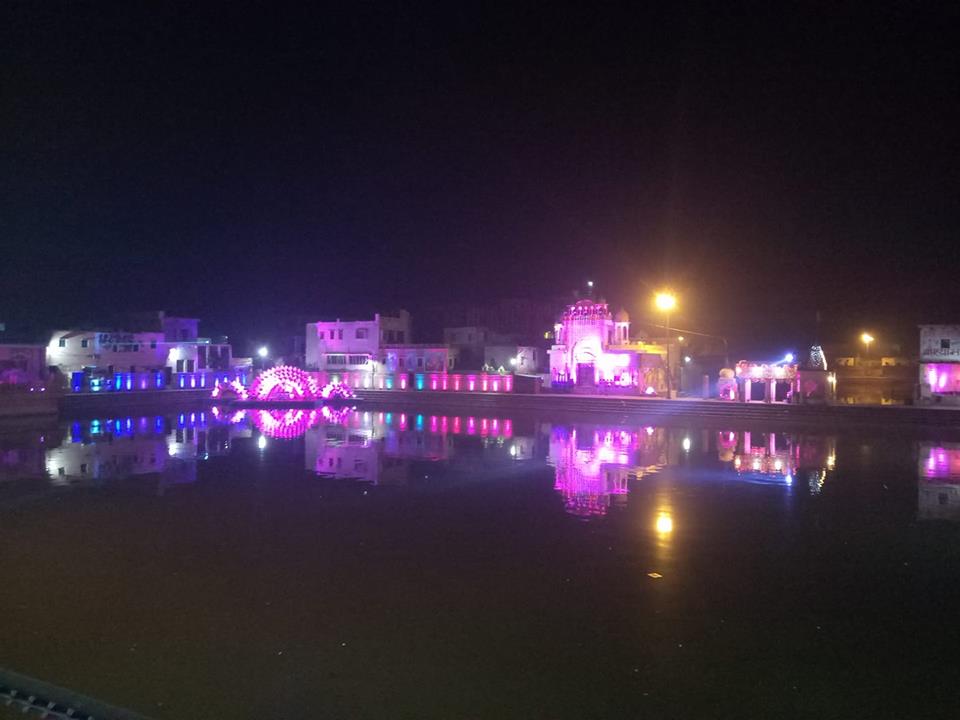 Mahanidhi Madan Gopal Das
How should we worship Radha-kunda on Her appearance day in Caitra Purnima (april), and on Karttika Bahulastami (october), the day Caitanya Mahaprabhu discovered Radha-kunda?
Sri Sanatana Goswami's Hari Bhakti Vilasa, the lawbook (smrti) for the Gaudiya Vaisnava sampradaya, describes the observance of and worship details for Krishna, Rama, Nrsimha, Vamana, Visnu and Siva. It does not mention anything about observing or worshipping the appearance (avirbhava) days of Radharani, Caitanya Mahaprabhu, Nityananda or Advaita Acarya, what to speak about Radha-kunda.
Nevertheless, for all Gaudiya Vaisnavas these appearance days are supremely worshipable. They should be observed with grand celebrations of fasting, puja, worship, tirtha snana (Radha-kunda, Yamuna, Ganga), Hari-katha, kirtana, bhajans, Sri Harinama Sankirtana and sumptuous transcendental maha-prasadam!
But why are these most significant divine days not mentioned in Hari Bhakti Vilasa? Sri Sanatana Goswami produced this important law book by collecting references from all the authentic and ancient Vedic literatures, especially the Puranas. These sastras say very little or nothing about worshiping Srimati Radharani. And they say nothing at all about worshiping Caitanya and the Panca Tattva because they appeared here long after these sastras were written.
Thus over the last 500 years, the different lineages of the Gaudiya Vaisnava sampradaya have developed their own worship standards for observing these sacred appearance days.
How to observe Radha-kunda's appearance and discovery days depends on one's devotional inspiration and the instructions of Sri Guru.
Bhagavan Sri Krishna Himself, Vedic sastras i.e. Puranas, and our Gaudiya Vaisnava sastras all say that Radha-kunda is non-different from Srimati Radharani, which means SRI RADHA KUNDA IS SRIMATI RADHARANI!
So on Her appearance day in Caitra Purnima, one can worship Radha-kunda just like one observes Radhastami by:
-fasting until midnight;
-panca-amrta abhiseka;
-wonderful bhoga offering;
-astakams and prayers;
-Radha-Krishna katha;
-grand aratika;
-kirtan;
-kunda parikrama & Sri Harinama Sankirtana;
-snana—midnight moon light bath in Yugala's prema-amrta;
-relish Radharani's maha-prasadam!
Now that's the proper way to observe the divine appearance of Vrndavanesvari Srimati Radharani in Her most merciful, compassionate, prema-giving, madhurya rasananda svarupa as SRI RADHA KUNDA!
Srimati Radharani ki jai! Caitra Purnima Radha-kunda appearance day ki jai!
Sridhama Vrndavana ki jai! Jai Jai Sri Radhe!
https://www.mahanidhiswami.com/wp-content/uploads/2019/06/RK_KL.jpg
720
960
dasi
https://www.mahanidhiswami.com/wp-content/uploads/2017/08/mahanidhi-swami-radhakund.png
dasi
2019-06-14 10:31:29
2019-06-14 10:31:29
Worshiping Radha Kunda: Caitra Purnima & Bahulastami