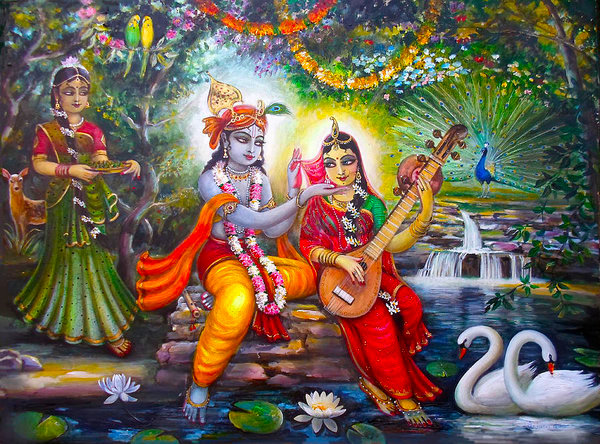 Mahanidhi Madan Gopal Das
Without any shade of a doubt Vilapa Kusumanjali, "A Flower Bouquet of Lamentations", is the most important and essential book for any serious sadhaka practicing raganuga-bhakti in manjari-bhava, craving to attain the nitya-seva of Srimati Radhika in the Vraja nikunjas.
Every word, every line and every verse is sheer nectar—full of hope, intimate sevas, tears of lamentation and practical guidance on how to meditate on Bhanunandini's loving service while being "absorbed in chanting" the Hare Krishna maha-mantra, or while rapt in single-minded contemplation.
I beg those hankering for love divine in Swamini's seva to daily read and remember, and to think and drink the sweet nectar within all the verses of Srila Raghunatha dasa Goswamipada's chintamani grantha, Sri Vilapa Kusumanjali.
By this daily practice, flowers of beautiful intimate sevas at Srimati's sweet lotus feet will blossom on the tree of your hearts! This is the SRI guarantee!!!
Srimati Tulasi Manjari ki jai! Sri Raghunatha Dasa Goswami ki jai! Jai Jai Sri Radhe!
https://www.mahanidhiswami.com/wp-content/uploads/2019/01/madhurya-raga-anjana-das.jpg
444
600
dasi
https://www.mahanidhiswami.com/wp-content/uploads/2017/08/mahanidhi-swami-radhakund.png
dasi
2019-01-17 13:46:07
2019-01-17 13:46:07
Glories of Vilapa Kusumanjali