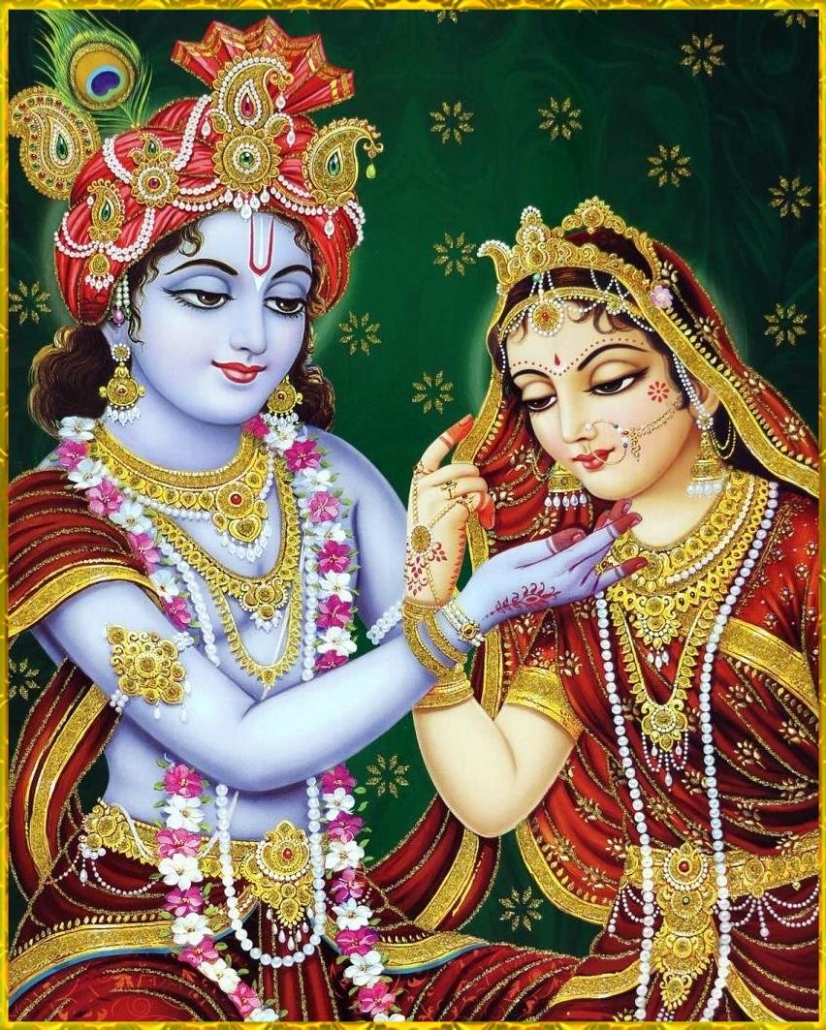 Mahanidhi Madan Gopal Das
To progress nicely in Radha-Krishna bhakti -bhajan, we offer the following ideas for your daily remembrance and practice, sadhana -abhyasa. For most Gaudiya Vaisnavas this is the essence of SAMBANDHA and PRAYOJANA i.e. the foundation and goal of Radha-Krishna bhakti bhajan.
Our Eternal Identity
** By nature every jivatma (you) is an eternal servant, part and parcel of Bhagavan Sri Krishna.
** As Gaudiya Vaisnavas we are Radha-Govinda Yugala -upasakas, which means that here every day, and forever in Vraja Gokula, we will worship Radha and Krishna in the keli -kunjas, divine play groves of Sridhama Vrndavana in Goloka—the spiritual sky.
** My Sthayi-rati (permanent mood of loving attachment to Bhagavan Sri Krishna.)
Of the five Vraja rasas or ratis, we possess and serve Sri Krishna in the topmost form of madhurya-rati (divinely ecstatic amorous love), with the same parakiya bhava that Srimati Radharani and all Her confidential sakhis like Lalita, Visakha and Tulasi-manjari feel toward Bhagavan Sri Krishna.
** We are eternal loving maidservants (manjaris/dasis/kinkaris) of Srimati Radharani, following the moods and sevas of Her other manjaris like Sri Rupa and Tulasi manjaris.
** For Sri Radhika's happiness, in our daily reading and meditation, we offer one specific seva (which we cherish most), and a variety of other tasteful services to please Swamini Radha throughout the day and night, asta-kaliya lila.
** Upon attaining Radha-Govinda prema, we will leave this maya jagat, samsara, once and for all, and go directly to Radha-Govinda Yugala's pastimes in Bhauma Vrndavana.
** Then Srimati Herself and Her dearest companions like Visakha sakhi, Tulasi-manjari, Guru manjari and param-guru manjari will personally train us in perfect sevas, and all the nuances and advanced feelings beyond Krishna prema i.e sneha, maan, pranaya, raga, anuraga, bhava and MAHABHAVA.
** Our hearts and bodies have now become perfect (siddha-deha/siddha-bhava)—complete and immaculate divine spiritual beings.
** Upon concluding Their prakata lila in Bhauma Vrndavana, Radha-Govinda Yugala, all Their eternal associates (nitya-siddhas), and all Their sadhana-siddha dasi manjaris (us) will go directly to Goloka Vrndavana in the spiritual sky to eternally serve Radha-Krishna in the ever-fresh, beautiful and natural play land of loving happiness—Sridhama Vrndavana.
Jai Jai Sri Radhe!
Sri Vraja Dhama ki jai!
https://www.mahanidhiswami.com/wp-content/uploads/2019/07/RGov.jpg
1063
852
dasi
https://www.mahanidhiswami.com/wp-content/uploads/2017/08/mahanidhi-swami-radhakund.png
dasi
2019-07-04 21:59:46
2019-07-04 21:59:46
Gaudiya Vaisnava, Identity and Goal