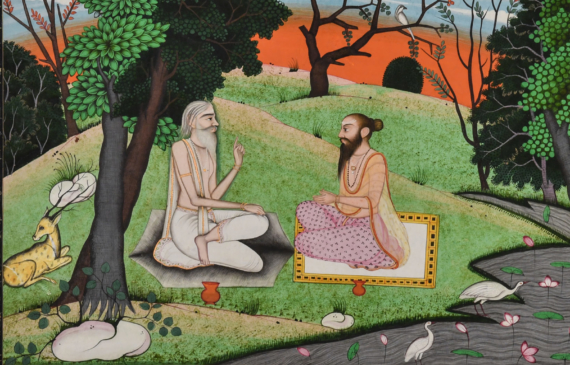 Mahanidhi Madan Gopal Das
Any sincere sadhaka can always be in association with one's merciful Gurudeva, even if the Guru is far away or has entered Radha-Govinda's nitya-vrndavana lila.
Simply by meditating on your divine master, you immediately establish a connection with him. In response to your thoughts and prayers, Sri Guru will send you his full blessings, guidance, power and love.
A sweet stream of spiritual energy will flow from Sri Guru to you, just as honey pours from one vessel to another. You will feel his mercy mellowing your mind, and taste the sweet bliss of his charming presence in your heart.
In the Yoga-sutras, Rishi Patanjali says you can control your vrittis (thought waves) by fixing your mind on one who has transcended human passions and attachments (vita-raga-visayam ca cittam).
So by thinking of your Guru or some liberated soul, or by looking at his picture, you will pacify your mind, purify your heart and empower your Harinama japa with increased concentration.
The Padma Purana (Uttara-khanda ch. 112 v. 9-29) says that the mind becomes pure by Sri Guru smarana: "Just by thinking of your Guru, you will obtain 1/100th portion of the priceless treasure of his Krishna bhakti."
However, the ability to draw blessings from your beloved spiritual master depends on the degree of your faith, surrender and dedication to Sri Guru. When sincere sisyas meditate on Sri Guru, they will definitely feel the benign and blissful presence of Sri Guru in their hearts.
Once Srila Prabhupada said, "Even if I am in the spiritual world with Radha and Krishna, whenever you chant the Hare Krishna maha-mantra, you will immediately experience my presence right before you!"
Surrendered sisyas ki jai! Krpa-sakti murti Sri Guru ki jai! Jai Jai Sri Radhe!
https://www.mahanidhiswami.com/wp-content/uploads/2019/05/DSC_3957_570x365_acf_cropped-2.jpg
365
570
dasi
https://www.mahanidhiswami.com/wp-content/uploads/2017/08/mahanidhi-swami-radhakund.png
dasi
2019-05-17 09:20:40
2019-05-17 09:20:40
Be Forever With Your Guru