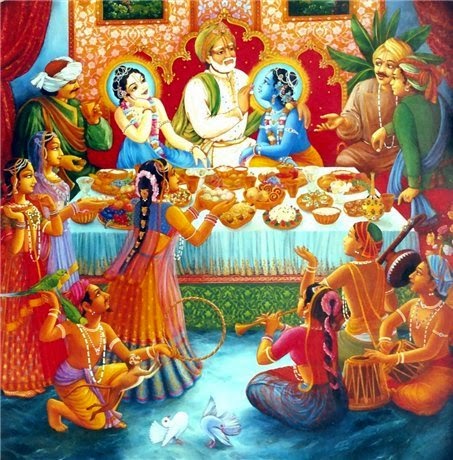 Mahanidhi Madan Gopal Das
Chaitanya Mahaprabhu's Nandotsava in Puri
Srila Raghunatha Dasa Goswamipada describes Mahaprabhu's celebration of Nandotsava: Krishna On Nandotsava, Sri Gauranga and His devotees dressed as cowherd boys and carried heavy pots with yoghurt and milk on their shoulders. When they came to the festival-grounds, they chanted 'Hari! Hari!' Kanai Khutiya dressed as father Nanda and Jagannatha Mahati as Queen Yasoda.
The Lord took King Prataparudra, Kasi Mishra, Sarvabhauma Bhattacarya and Tulasi Podichapatra all along in a swinging dance, and everyone was sprinkled with yoghurt, milk and turmeric-water." (Gauranga Stava Kalpadruma 9)
Krishna's Childhood Nandotsava
In Krishna's sixth year, Nanda Maharaja organized a grand festival (Nandotsava) to celebrate Krishna's auspicious birthday. Krishna sat upon a celestial golden throne and all the Vrajagopis came to worship Him. The loud pounding of the bheri drums, the dhintadhinta sounds from the mrdangas and dundubhis, and the skillful beats on the dolaks announced the auspicious festival of Krishna's birthday. The joyous vibration of the occasion was enhanced by the excited voices and jingling ankle-bells of the elderly gopis as they greeted the various guests.
The learned brahmanas bathed Krishna with thousands of streams of pure water poured from crystal pitchers while purifying the environment with perfectly enunciated mantras. This added waves of attraction to Krishna's already gorgeous body. They dried Krishna with a fine linen cloth, dressed Him in a yellow silk dhoti and chaddar, decorated Him with glittering gems, and anointed Krishna's forehead with gorocana tilaka. After fixing His jeweled bracelets and armbands, they tied some durva grass around Krishna's wrist with turmeric soaked thread.
Following the local customs of such blissful festivals, the merciful Yasoda blessed Krishna by showering flowers upon His head. The elderly gopis sang traditional Vrajabhasha songs and waved lamps respectfully before Krishna. He, who is kind to His friends and the object of the gopis' love, sat quietly on His asana accepting arati. Then the Vrajavasis very enthusiastically and joyfully offered Krishna wonderful gifts and a variety of creamy milk sweets.
To properly complete the festival, Yasoda had her servants invite the general public. Yasoda offered palatable food to the wives of the village leaders, the married women and the young girls of Vrindavana. Nanda Maharaja invited the cowherd men such as Sananda, Upananda, and their wives to take the sumptuous foods cooked by Rohini, the crest-jewel among women. When the cowherd men arrived Yasoda honored their youngest sons by worshiping them and offering pearl necklaces.
Though pained by separation from their husbands because they had to accompany their mothers-in-law to the festival, the newly married gopis put on ornate and elegant ankle-length dresses. The tender faces of these newlyweds glowed splendidly under the fine fabric of their veils.
The gopis felt intensely attracted to Krishna, so they revealed their loving sentiments by offering Him their sidelong glances in charity. Their bangles fell silent as they embraced Krishna with their eyes. They felt as if they were beholding a bouquet of beautiful flowers. No one noticed the auspicious meeting of Krishna and the gopis.
Though they had seen Krishna before, the young unmarried gopis like Dhanya-sakhi just stood with their mothers and gazed timidly upon Him as if it was the first time. While bathing in the lake of Krishna's exquisite beauty, the unmarried gopis expressed their desire to be His wives by offering Him mental flowers scented with camphor. They became shy, however, when Krishna accepted their proposal with a favorable glance. No one could detect the infinite bliss the gopis now relished within their hearts.
At that time, Krishna's pet parrot left His side and landed on the lotus held by gopi whose heart throbbed with love. Hoping to hear news of Krishna that excited gopi respectfully welcomed the parrot. Understanding the parrot's hint, Krishna cast the fresh lotus garland of His glance toward Radha, the daughter of Vrshabhanu. Krishna's glance seemed to say, O parrot! I saw this same gopi gazing at Me from the watchtower as I took the cows to the forest.
No one else saw this secret exchange of sweet love. Understanding that Radha's body had become slender due to Her purva-raga, Krishna looked upon Her with great compassion. Then Yasoda, shining with all auspicious qualities, smiled gently and took lotus-faced Radhika and the other gopis to another room to feed them.
After worshiping His best cows with scents and garlands, Vrajaraja Nanda escorted his guests to a wide jeweled veranda and sat them down on wooden seats. Then he bathed their feet, performed acamana, and offered arghya. Nanda arranged for Rohini and the wives of Sananda and Upananda to respectfully serve them first-class food and drink on gold plates. At the conclusion of the meal, Nanda personally gave them betel nut, cardamom, scents, garlands, and ornaments.
After the elderly men, children, and babies had eaten the feast, the married women and girls sat down in two rows to eat. Radhika and others received respect according to their position. Yasoda swam in an ocean of happiness as she personally served the gopis. In a voice that sounded as sweet as pattering raindrops of nectar, Yasoda spoke to each guest, "Please do not feel shy. Just eat to your heart's content."
Yasoda affectionately served everyone, and then honored them with offerings of betel nuts, garlands, ointments, sindura, and gold embroidered cloth. Finally, Yasoda, the crest jewel of good fortune, embraced each of the gopis before sending them home. Smiling broadly, Yasoda distributed the remnants of the feast to the sinless residents of the village.
Nanda Maharaja presented gifts to the dancers and musicians while Yasoda blessed them with her upraised palm. Upon concluding the festival, Yasoda thought holding such a festival everyday would surely fulfill all her desires. For a moment she felt a touch of sadness, fearing that she may not have fully satisfied all the guests.
Sri Krishna Nandotsava ki jai! 
Kaviraja Sri Karnapura Goswami's Ananda Vrindavana Campu ki jai!
Jai Jai Sri Radhe!
All parts of Krishna Nectar Lilas can be found here.
https://www.mahanidhiswami.com/wp-content/uploads/2020/09/krishna-valley-hungary5.jpg
460
453
dasi
https://www.mahanidhiswami.com/wp-content/uploads/2017/08/mahanidhi-swami-radhakund.png
dasi
2020-09-16 19:49:17
2021-08-15 10:42:29
Krishna Nectar Lilas  part 8 "Chaitanya Mahaprabhu's Nandotsava in Puri"