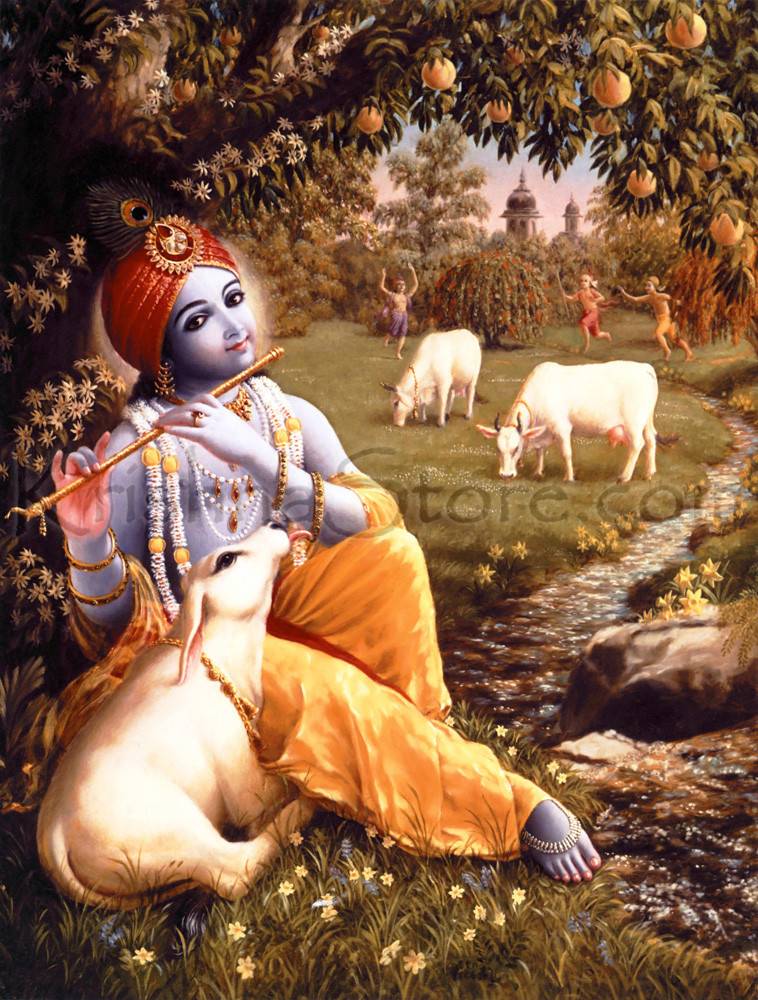 Mahanidhi Madan Gopal Das
The eighteen syllable Gopal (Krishna) mantra, highlighted in the Gopal Tapani Upanisad, is the actual diksha mantra for all Gaudiya Vaisnavas. In Brhad Bhagavatamrita, Sri Sanatana Goswami reveals the inconceivably amazing power and effect of the Gopal mantra.
In his narrative of an archetypal, young Vrajavasi cowherd named Gopa-kumar, Sri Sanatana Goswami explains that this simple, uneducated boy attained the topmost spiritual perfection just by chanting the Gopal-mantra received from his Guru.
Sitting on the same asana in the same place, his Govardhan home, and in the same body, Gopa-kumar, by his diksha mantra-purified mind and consciousness, attained and experienced many positions and realms or regions of both material and spiritual reality, wherein one lives for thousands or even millions of years!
Commenting on his own verse (Brihad Bhagavatamrita II.3.9), Sri Sanatana Goswami says, "Gopa-kumar did not die, or give up his present body to accept another body. Rather, his young cowherd body became so refined and pure that he was able to "travel" to all these different regions or planes of reality, and finally enter the supreme spiritual abode."
During his galactic spiritual odyssey, Gopa-kumar encountered the lokas of Svarga, Tapa, Satya, Shiva, Visnuloka and sakshad darshan of Sri Lakshmi Narayan.
At last, by the mercy of Sri Guru and the power of chanting his diksha Gopal-mantra, Gopa-kumar attained his cherished spiritual perfection. He received an eternal, blissful spiritual body (siddha svarupa/deha) of a cowherd boy, and entered Goloka Vrndavana.
Bhagavan Govinda Gopal greeted Gopa-kumar and locked him in a loving embrace of eternal fraternity. Now, Gopal, Gopa-kumar and all the boys will play and sport together for time eternal in the forests, rivers, lakes and pasture lands of the happy realm of Nanda Vraj!
The most significant point is that Gopa-kumar achieved all these phenomenal experiences, realizations and realities of consciousness even though he received practically no association or personal instructions from his diksha Guru.
Gopa-kumar himself explains, "I received diksha in the Gopal-mantra, but then my Guru, overwhelmed in bliss, immediately went away. I didn't have the slightest idea how to chant the mantra, mantra –katham –sadhaniya, gyatam –na –kinchana." (Brihad Bhagavatamrita II.1.122-24)
Sri Sanatana Goswami comments: "Just by the power of Guru and chanting his diksha Gopal-mantra, Gopa-kumar's mind became pure and free from lust, envy and greed, and he developed deep faith, japena –chitta –shuddha, sraddha –ajayata." (Brihad Bhagavatamrita II.1.126)
In these days of world-class Gurus, most disciples get practically no association or personal teachings from their Gurus. The example of Gopa-kumar's full faith in Guru, and his daily diksha mantra chanting is most encouraging for all Krishna bhaktas.
Sri Sanatana Goswami says, "Even without association of one's diksha Guru, just by a few words directly heard from Guru, and also by the inspirations and indications received indirectly from Guru, a disciple will learn all the necessary spiritual truths needed for perfection, kinchin –mukhena –sanketan –abhyavedayat." (Brihad Bhagavatamrita II.3.5)
Ah, what astonishing power Sri Guru possesses! Like the diksha mantra, which has unlimited power because it is non-different from Bhagavan Sri Krishna, Sri Guru also has unlimited power because the Guru is being directly blessed and fully empowered by Sri Krishna, Sri Guru and one's own Guru parampara.
Thus Sri Sanatana Goswami establishes the astonishingly inconceivable and unlimited power of the Gopal diksha mantra so kindly bestowed upon a disciple by one's most merciful and loving eternal master, Sri Guru.
At their last meeting, Gopa-kumar's Guru blessed him saying, "You are dear to me so I have given you everything I have. By the power of the Gopal diksha mantra you will understand and attain everything on your own, svayam –gyasyasi –lapsyase." (Brihad Bhagavatamrita II.3.6)
Sri Guru ki jai! Gopal-mantra ki jai! Sri Guru diksha ki jai! Jai Jai Sri Radhe!
https://www.mahanidhiswami.com/wp-content/uploads/2019/09/1600-758x1000.jpg
1000
758
dasi
https://www.mahanidhiswami.com/wp-content/uploads/2017/08/mahanidhi-swami-radhakund.png
dasi
2019-09-21 21:40:22
2019-09-21 21:51:30
Astonishing Power of Gopal Mantra